So...after a month of coupon-ing like gangbusters, I re-evaluated my commitment. I certainly got a LOT of great bargains. In fact, I spent $200 more on groceries during the month than I usually do. (If my husband happens to be reading this...Oops! Sorry, honey!) My cupboards are full, and I probably don't need to buy toothpaste until I'm either ready for dentures or dead. However, I gave into the temptation to buy a lot of stuff (especially snack foods that I rarely purchase) just because I had a coupon.
I'm not totally forsaking coupons, because I got several items totally free! My new strategy goes like this:
Only use coupons on items I need or regularly use.
Track my budget carefully.
If there is an item that is free or less than $0.25, go ahead and get it.
Here are a few examples: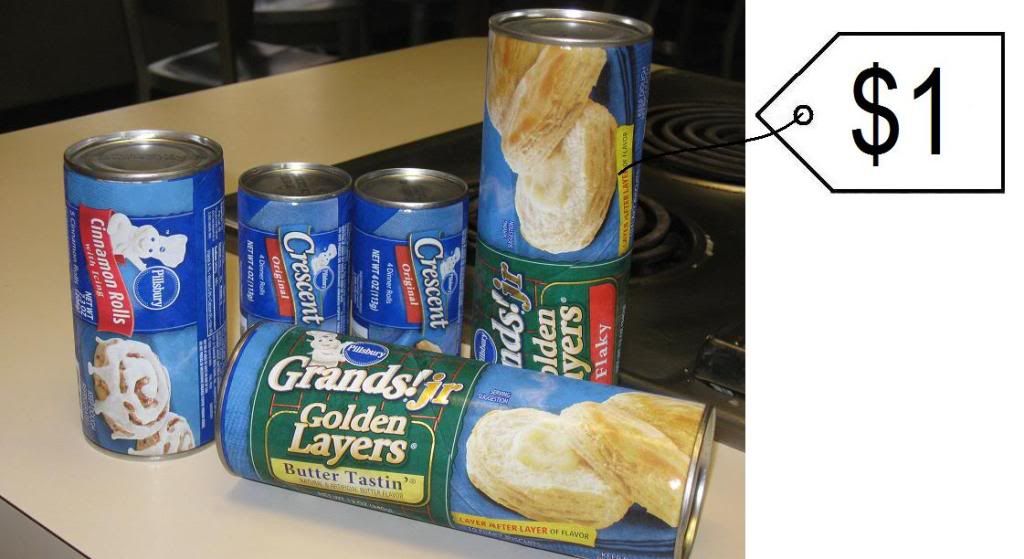 I don't normally buy refrigerated biscuits, crescent rolls, etc. But I got all these for $1 and my kids love them as snacks.
I
rarely
buy frozen entrees. But this one was so cheap, I snagged it for my "hungry man," who is 14 and on the cross-country team right now.
We always need toothpaste. These were on sale for $1 a piece. I had coupons for $1 off Crest toothpaste. I thought I was getting 6 tubes for free, but sadly, 2 of my coupons were expired. Lesson learned. Still, 6 tubes for $2 is not bad.
Tips:
Determine for yourself how much your

time is worth.

My coupon skills improved, but only slightly. So it still takes me quite a bit of time to figure it all out.